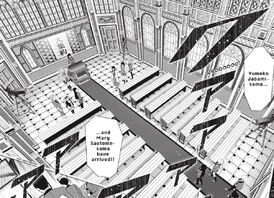 The Grand Tournament (or Grand Meeting) is an event organized by Sayaka Igarashi in the latter half of the Election. Official invitations were sent to all of the top ten highest vote-holders. Its purpose is to gather the highest vote-holders (excluding the Top 2) to join the game. It's purpose is gathering and pinning them against each other in order to pool the votes into one big pile, that can go to one person. The event is broadcasted live to the school and held in a small cathedral near the school. It is overseen byKurara Kurokura, but due to recent events the broadcast and Sayaka's presence is also required for absolute fairness.
Rules
Invited were Yumeko Jabami,Erimi Mushibami, Miyo Inbami, Ibara Obami, Midari Ikishima, Mary Saotome, Yuriko Nishinotouin and Yumemi Yumemite. They will each play one on one games in elimination rounds. There will be three rounds in total and whoever ends up the winner of the Tournament will then have all of the votes. The game played during the tournament is called Rock Paper Scissors Poker.
Games
First Round:

Miyo vs Ibara, Yumemi vs Mary, Midari vs Yuriko, Erimi vs Yumeko

Second Round:

Yumeko vs Midari, Miyo vs Mary

Third Round:
Winner
Yumeko Jabami and Mary Saotome won the Grand Tournament in a draw.