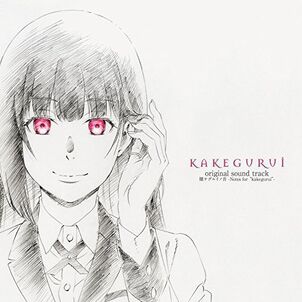 The Kakegurui Original Soundtrack for the first season of the Kakegurui Anime was composed by TECHNOBOYS PULCRAFT GREEN-FUND and released on January 24, 2018. It contains 60 tracks.
The Track can be listened to here
Tracklist
Disc 1
Kakegurui
High Strung
Something Strange
Omen
The Demise of Mankind
Vulgar Evening Smile
Unpleasant
Strange Visage
Black or White
Breathtaking
Debating Truth
What Do We Have Here?
Biting Nails
Smashing Wrench
Hot Flash
Pressing Silence
Waltz of Joy
Gavotte of Dignity
Habanera of Demise
Blazing Anger
High-Strung Spirit
Illuminated Street
Bewitching Madness
A Flowering Snake
Respect out of Fear
A Sublime Human
One Who Wields Authority
A Time of Happiness
Disc 2
Something Like Joy
Things Remembered
Life or Death
A Flower Without a Match
Everyday Brightness
Driven to Irritation
Desire for Recklessness
A Time for Excellent Manners
Sadistic Intimacy
Relief
Bold and Daring
Gloating
Beautiful Thoughts
Explaining the Facts
Witty Atmosphere
Inquisitiveness is a Matter of Flattery
A Woman Who Played the Fool
Approaching Opposites
A Greedy Thing
Advancing Towards Dignity
Suspicious Looking
Disheveled Spirit
Playing with Toys
On the Edge of Life and Death
Yumeko's Ecstasy
Dreaming of Adulthood
Russian Roulette of Love ~Yumeko Jabami & Yumemi Yumemite~
Russian Roulette of Love ~Yumemi Yumemite~
Russian Roulette of Love ~Yumeko Jabami~
Deal with the Devil (TV version)
LAYon-theLINE (TV version)
LAYon-theLINE (REMIX re-make a bet on a soul)
Community content is available under
CC-BY-SA
unless otherwise noted.