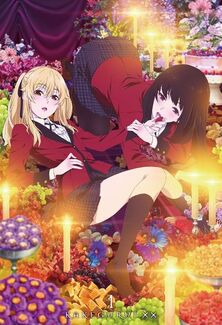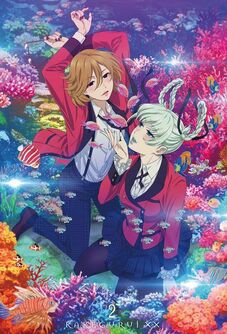 This is Kakegurui XX's Soundtrack, for the second Season of the Kakegurui Anime. It was composed and arranged by TECHNOBOYS PULCRAFT GREEN-FUND and was released on May 17, 2019 alongside the first Blue-Ray disc of the anime. The second disc released on Jun 28, 2019 together with the second Blue-Ray as well.
The cover of the first disc depicts Mary and Yumeko lying on a banquet of fruits and flowers, decorated with candles. The second cover features Rei and Kirari supposedly underwater in her aquarium.
Tracklist (unofficial titles)
Disc 1
Kakegurui XX (main theme)
First Strike
The Momobami Clan
Warriors of Hyakkaou
Ready for War
New Day, New Game
A Scheming Gambler
The Devil's Pleasure
Exquisite Aroma
Waltz of Trickery
Guillotine Ballet
Toxic Sisters
The Thrill of Life or Death
A Tower of Decisions
It All comes Down to This
Thin Phase, Thin Theory
Lingering Demon
Bewitching Madness XX
A Flowering Snake XX
Conspiracy
A Feeling of Jealousy
Open Cards
Disc 2
Crazed Mind
Amazing Grace
On the Edge of the Cliff
The Water's Voice
Escape the Fruit
After the Diceroll
Self-esteemed Soul
Silent Happiness
Luck Streak
Stained Conscience?
Joker's Dance
Deadly Bounty
Return in New Colors
Immersed in Passion
Zero
Lament of Heartlessness
Lily Flower's Embrace
Let's Check it Out
Senseless Dance
Channeling One's Self
Unsure Preference
Two Pair Maiden (Yumemi only)
Two Pair Maiden (Yumeko only)
Community content is available under
CC-BY-SA
unless otherwise noted.