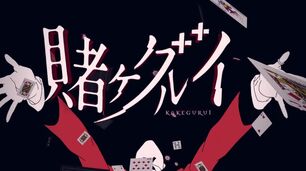 Kono Yubi Tomare (コノユビトマレ) is the opening song for Kakegurui's second season, Kakegurui XX. It is sung by the singer JUNNA. It can be watched here. The original MV for the song can be watched here 
Intro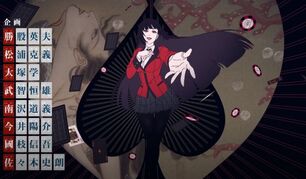 We first see Yumeko Jabami gambling and then after a lucky pair of cards getting a rush. Then she sings and rubs her cheek like a cat, similar to how she did, when she first became a Mittens. Then the camera pans through all characters. Yumeko is then seen embracing herself and getting excited from a thrilling gamble. Kirari Momobami is then seen opening her arms, as to welcome some new people and it zooms out of Terano Totobami's eye. The Hundred Devouring Family members are shown in shadows, before all of them are seen standing in a group with Yumeko singing in front of them. We then see Itsuki Sumeragi and Kaede Manyuda inside of a heart symbol, implying Itsukis feelings for him, followed by Ririka Momobami and Mary Saotome standing back to back. It ends with the four main candidates of the election singing the final chorus: Terano, Kirari, Mary and Yumeko.
Lyrics
English
Romaji
Kanji
I will bet, just as you wished
I won't go easy
Love, hate, love, hate
Who's first?

Moderation is boring.
All or nothing
Love, hate, love, hate
Let's enjoy it

It feels better to go in all of the way
A pretty, thrilling story
Live, live, live, live

There is nothing much to lose
Just because you lose tomorrow, it doesn't mean the future is gone
There's too much knowledge to be able to dream in this age
Come here, stop, my finger
I'll love you completely, that is my etiquette

Nozomi doori ni kakete ageru
Tekagen wa shinai
Suki kirai suki kirai
Saisho wa dare?

Hodohodo ja tsumannai
Subete ka zero ka
Suki kirai suki kirai
Tanoshimimashou

Nomerikomu hou ga kimochi ii
Suteki na suriru no sutourii wo
Ikiru ikiru ikiru ikiru

Ushinau mono wa taka ga shireteru
Ashita wo nakushitemo mirai ga nakunaru tte wake janai
Yume wo miru ni wa shirisugita jidai sa
Oide yo kono yubi tomare
Aishikiru sore ga watashi no tashinami

望み通りに賭けてあげる
手加減はしない
スキ キライ スキ キライ
最初は誰?

ほどほどじゃつまんない
全てか0か
スキ キライ スキ キライ
楽しみましょう

のめり込む方が 気持ちいい
素敵なスリルのストーリーを
生きる 生きる 生きる 生きる

失うものは たかが知れてる
明日をなくしても未来が なくなるって訳じゃない
夢を見るには 知りすぎた時代さ
おいでよ コノユビトマレ
愛しきる それが私の嗜み
Community content is available under
CC-BY-SA
unless otherwise noted.