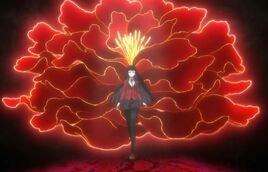 LAYon-theLINE is the first ending theme of the Kakegurui anime series.
First, it depicts Yumeko Jabami walking, while in the background a flower with changing glowing colors is seen. After a while, Yumeko takes off her red uniform and continues walking while petals fall and spotlights shine from the background. In the final seconds, poker chips can be seen falling and Yumekos lustful face, as she anticipates the next gamble.
It can be watched here. The original MV for the song can be watched here
Lyrics
English
Romaji
Kanji
My vision is distorted fundamentals invite to expose it all.
It's unaltered and therefore pure,
That's how absurdity defines beauty

If we step into the depths and remove all troubles.
That insanely desired moment will be waiting for us.

I'm overflowing!

At the boundary of the meridian there is a fate that lies.
Between growth and repair,
The souls dance upon your palm
Do with them as you please.

Let's feel each other
In the depths of hell.
Deprecating and deceiving
Exposing demanding and going crazy!

yuganda shikai da kiso wa sasoun da
subete sarase to
mazari mono no nai junsui koso ga
utsukushiin da to fujouri wa iu

soko ni fumikonde tekazu hazuseba
kuruoshiku nozondeita shyunkan ga matteru

tagitte shimau wa

keiraku no kyoukaisen yokotawaru unmei
zecchou to zetsubou to ga
tenohira de odoru you na
tamashii o moteasonde kure

naraku de kanjiaou
karamiatte, ubaiatte,
damashiatte, sarashiatte,
motomeatte, kuruiatte

歪んだ視界だ 基礎は誘うんだ
全て晒せと
混ざりモノのない 純粋こそが
美しいんだと 不条理は言う

そこに踏み込んで 手数外せば
狂おしく望んでいた瞬間が待ってる

滾ってしまうわ

経絡の境界線 横たわる運命
絶頂と絶望とが
掌(てのひら)で踊るような
魂を弄んでくれ

奈落で感じ合おう
絡み合って、 奪い合って、
騙し合って、 晒し合って、
求め合って、 狂い合って
Community content is available under
CC-BY-SA
unless otherwise noted.