Scumcoin (スカムコイン) appeared in Kakegurui - Compulsive Gambler and is a virtual currency created by Rin Obami to use in The Election. While seemingly beneficial to students who didn't want to participate in the election gambles, it actually was a scheme to quickly amass votes by luring people with high payouts.
Overview
Scumcoins can be exchanged for votes or money. One Scumcoin is equivalent to one vote or when trading for money, the value is the issuer's vote count multiplied times ¥10000 (so their value increases with each collected vote). The issuer in this case is Rin, which also prompts students unsuspecting of his fraud to cheer him on.
Scumcoins were advertised as a currency with only benefits by those who supported it:
There are only as many votes as the student body, while with Scumcoins there can be even more gambling going on.
Gambling with them doesn't require any election observers, since they aren't votes.
For students who aren't interested in the election, they can be used to make money.
To exchange coins for votes while adhering to the election rules, a player would purposely lose a game such as Rock, Paper, Scissors to the issuer.
However, Mary notes that since there is no oversight for Scumcoin, there was nothing to prevent the issuer from simply taking all of the votes and money.
Story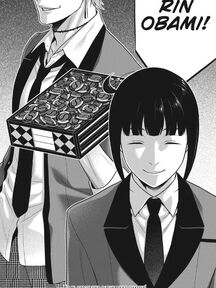 During her gamble of Gin Rummy against Ririka, Nozomi Komabami introduced those coins and explained them to her. Mary instantly realizes that it is all a big fraud. Ririka then deduces that it is Rin and issues a challenge to him in order to demonstrate her power. This leads to the game of War.
The Election Committee heard of it, but decided, that they aren't breaking any rules and they're also a good thing since they create more gambles. During the end of the election, some people have gathered a lot of votes so not a lot of gambling is going on anyway. Inaho also finds it amusing what people come up with.
Rin used them to gain a lot of votes and following from the student body. After Rin was defeated by Ririka and his lies were exposed, no one trusted him anymore and thus Scumcoins lost their value and they no longer circulate anymore.
Trivia
Scumcoin begins the initial exchanging votes for money in the later stages of The Election.
See Also